Farming jobs are shrinking everywhere. Youth of rural pockets are now more interested in finding alternatives. Few people, however, realize the significance of agriculture to reach the twin goals of eradicating extreme poverty and boosting shared prosperity.
Gobinda Raju Subudhi, a free-lance journalist, used to collect and highlight the issues of nearby tribal regions for local newspaper agencies. Meanwhile, he moved by the plights of daily wage farmers who transit to other states (especially Andhra Pradesh) for job prospects due to marginal profit in farming. Gobinda, aged 61 hails from Narayanpatna village in Koraput. He has been inclined towards agriculture since his young days. Looking at the scenario and challenges, he initiated farming, attained success and motivated the young labour force of his village to opt for farming by creating multiple employment prospects.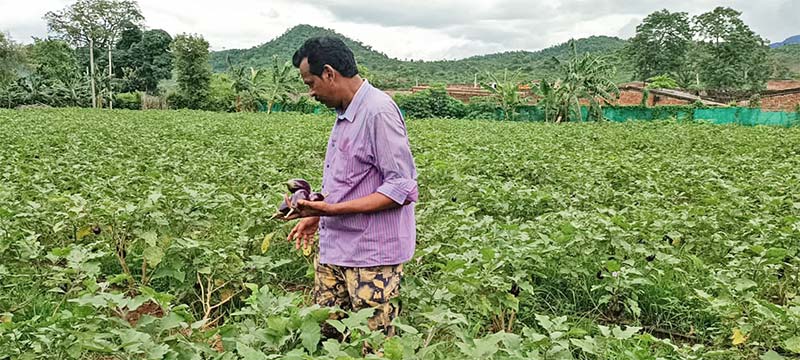 "In my 30 years of farming, I've faced many ups and downs in the field. But, the hardships of hilly terrain and financial crunch could never deter my passion for farming. I feel blessed that my efforts got instrumental in providing a source of income to at least ten families by now." 
Gobinda stepped into the field with no formal training. But he was committed to revitalize the diluting interest in agriculture among the youth. His familiarity with agro-techniques since childhood helped him big way.
Though he is ecologically concerned, but as a journalist, he knew modern means could only boost profit. Thus he expended on a few technological progressions for installing bore wells and pipelines for drip irrigation in his farm field that helped in curtailing water wastage and enhanced yields in limited resources.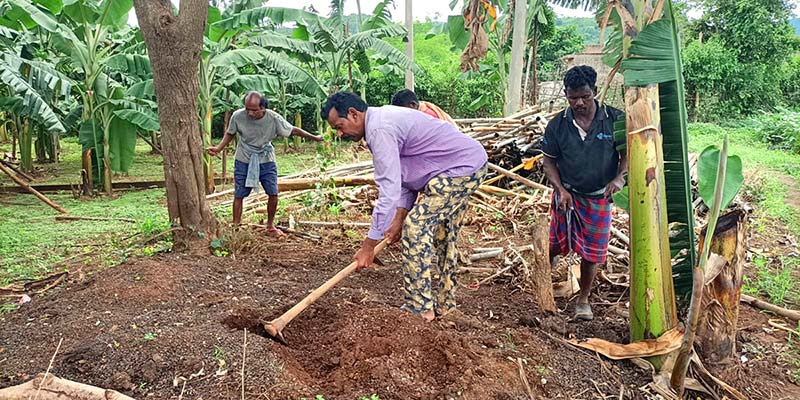 Gobinda also does farming by utilizing organic manures and fertilizers composed of neem, gobar, hing and other natural ingredients in his 7 acres of land. In addition to the banana plantation, he grows many other green vegetables like brinjals, ladyfingers, bitter gourd etc., which have huge demand in the local bazaars and markets of Andhra Pradesh due to its quality. This creates a profit of around Rs two lakh per season, attracting the focus of many youths back to farming.
"Agriculture is the best medium to feel the purity of nature. So, I prefer organic manures over chemical fertilizers to maintain the fertility of the land and produce nutritious fruits without harming the nature."
He considers his workers as family and joins them in the field and enables round-the-year work so that his workers always receive financial support. He provides food and accommodation to each worker along with a daily wage of Rs 300.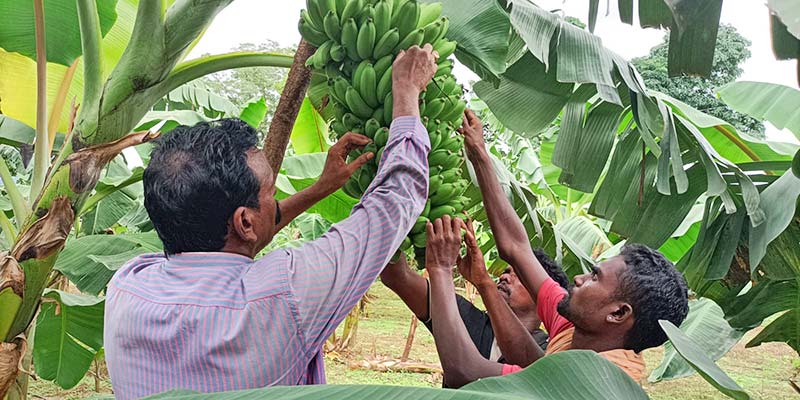 Gobinda is solely dedicated to the cause and refuses the job offers of news agencies. Instead, he gives priority to the growth of his farming as well as workers. Many a time, he has been invited by the agricultural department to impart training to the young aspirants in this sphere. His humble personality and achievement have evolved a sense of gratitude and loyalty among his admirers and become a burning example for the coming generation.