A teacher, a poet and a fervent environmentalist. Hemant Kumar Rout is a familiar and much respected name for the people of Barahpur under Rajnagar block of Kendrapara district and nearby villages. His concern for environment has resulted in the creation and preservation of 4 mangrove jungles in Kendrapara for last 50 years. Over years, his 'mission for green' has motivated local and residents nearby Bhitarkanika National Park to join the cause.
"I became a Hental warrior post 1971 cyclonic apocalypse that hit Kendrapara district hard and swept away many villages and people with it. But disregard to this, the villages with Mangrove shelter were safe during the surging tides. It made be believe that successful mangrove afforestation will definitely prevent the frequent cyclonic impact and generate a great source of livelihoods for locals." 
Since then Rout has collected Mangrove seeds of different species like KaI, Bani, Sinduka, Habali, Pitambari etc. He decided to plant mangrove trees near the river, the creeks and vacant lands, where people grazed their cattle. He went on wrapping patch by patch with mangrove plantation in Barunei, Barahapur, Jagannathpur, and Koilipur villages and other places near Brahmani River adjoining Bhitarkanika National Park. Apart from these, he has planted saplings of other trees like banyan, peepal, neem and bamboos on either side of the local and municipal roads.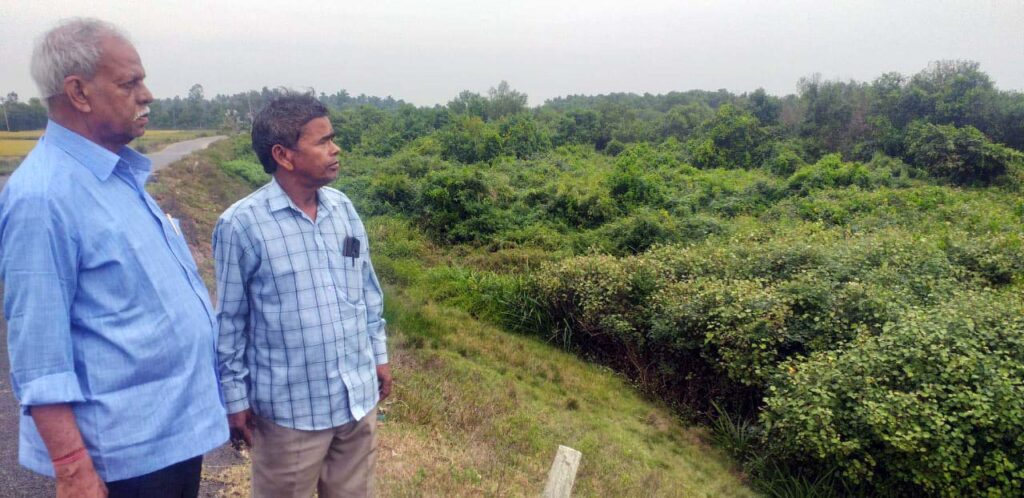 As a school teacher in Sapneswar High school in Barahpur, Rout was successful to generate environment friendly emotion in local students and parents. Initially people were reluctant to lend their support for mangrove plantation. The monopoly of several mafias and smugglers was also a hurdle that had bent the collective participation. Despite this, he continued his efforts to spread awareness and conducted meetings. Gradually people understood his motive was selfless and good for all.
The villagers of all age groups came forward to support Rout. They became vigilant about illegal hacking of wood and donated their land for plantation. Further, he constituted a conservation committee for the protection of Gahirmatha Turtles and mangroves forest that alleviated the monopoly of mafia in the region. Various NGOs and forest officials provided guidance and mangrove seeds to carry out plantation drive. The collective effort laid to the successful plantation over 100 acres of land area till date.
As a progressive poet, he has penned many poems related to social, psychological issues and environment protection. His weekly magazines 'The Hental' (english version for tourist) and 'Sishu Hental'( for school children) are widely circulated across Odisha to generate awareness for Mangrove protection in children, adults and tourists coming to the Bhitarkanika. Hemant Rout has also been felicitated with Biju Patnaik Award for his inclusive work on environment protection.
"The way people are busy in destroying everything, very soon the earth will become barren. But if we all try to save the earth together, plant trees and teach children about the protection of the environment, then we will be able to hope for a better tomorrow."
Hemant kumar Rout is now 65 years old. However, his love and concern for environment is same as 50 years back. The creation of 4 mangrove jungles in Jagannathpur of Rajnagar block, Barahpur and Kankdia village of Koilipur Panchayat and Tantiapal symbolizes his profound effort that has framed the present beautiful picture of Barahpur and nearby villages.
Hats off to his lively efforts!