Adversity often leaves a person with two choices – either rise or fall. Kuni Dehury, a silk reeler is one such person who turned her crisis into an opportunity when faced with adversity. And this opportunity epitomized her life as an inspiration for all of us.  Kuni, a resident of Karadapal village of Keonjhar district has mastered the skill of reeling in sericulture sector. In a span of 19 years, she has also worked hard to make more than 500 women self-reliant through rearing silkworms and reeling the yarn. Her innovative ideas and discussions regarding the challenges at the grassroot level, solutions and infusion of advanced technology to catalyse the silk rearing and processing has earned her national recognition.
After the death of her father in 2003, Kuni moved to her sister's place to complete her schooling. As the survivability of the family was on edge, Kuni left her education midway and started working to generate income. The sound of motorized Tussar reeling machines and the women spinning silk yarn from cocoons had already ignited her interest in the sector. Thus it was obvious for her to join the Bhagamunda Tussar Rearers' Cooperative Society (TRCS).
In 2004, Kuni Dehury completed a six months training under a Bangalore based team at TRCS. Kuni not only made the maximum utilization of the opportunity but also topped the test conducted at the camp. And there was no looking back. She grasped all the required skills and gained proficiency in advanced ways to cook cocoons, reel silk and adopt reeling process through modern machines such as twin Tussar reeling Charkha, Samrudhi, Unnatti etc. Over the decades, Kuni has also acquired expertise in weaving and designing fabrics to match the growing demand of a different style in the market.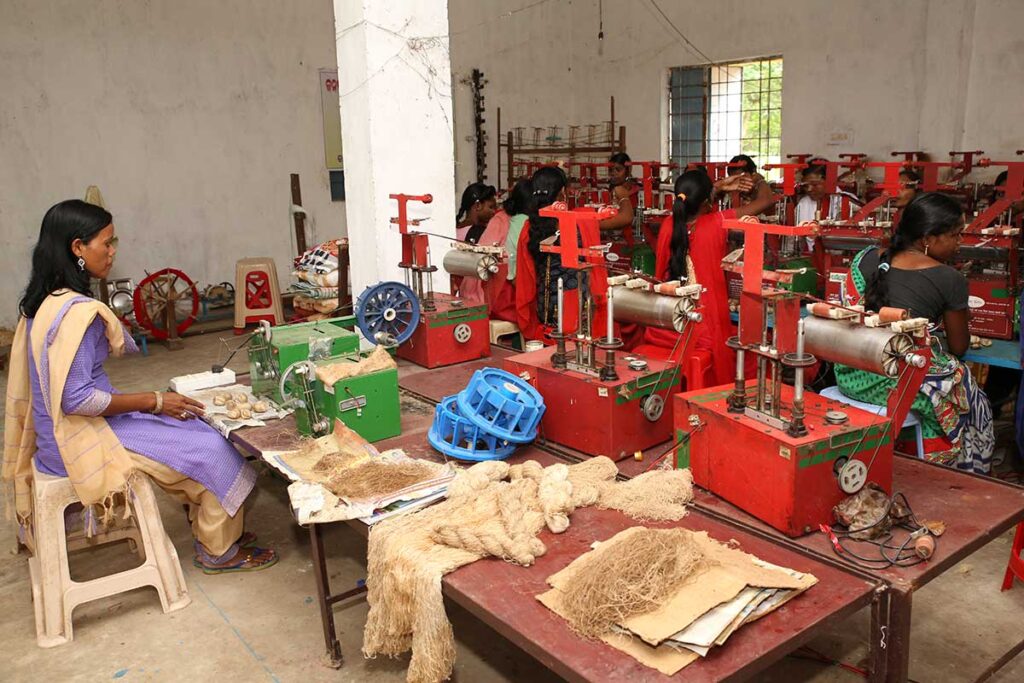 Irrespective of my low educational background, I feel blessed because I can connect with every sect of society through my work. As a stakeholder, I discuss the problems of silk rearers at the grassroot level and solve problems through innovative ideas at the government stands to boost the infrastructure suitable for better commercial output. That would benefit all of us.
Kuni has always believed on collective growth. Thus she started providing training at 5 to 6 silk processing units. Surging demands for handlooms and hand-weaved silk fabrics laid the foundation of 3 Silk Parks in Bhagamunda (Keonjhar), Baripada and Sambalpur as a part of the 'Made in India' initiative. The silk parks attracted an enormous populous under the Tussar parameter and made Kuni stay there as a master trainer. By far she has trained more than 500 people at Bhagamunda TRCS mostly orphans, widows or women from poor households. She encourages them to take up reeling and spinning as an occupation and earn livelihood. Further, she trains women at the Common Facility Centre (CFCs) in villages far away from Silk Parks.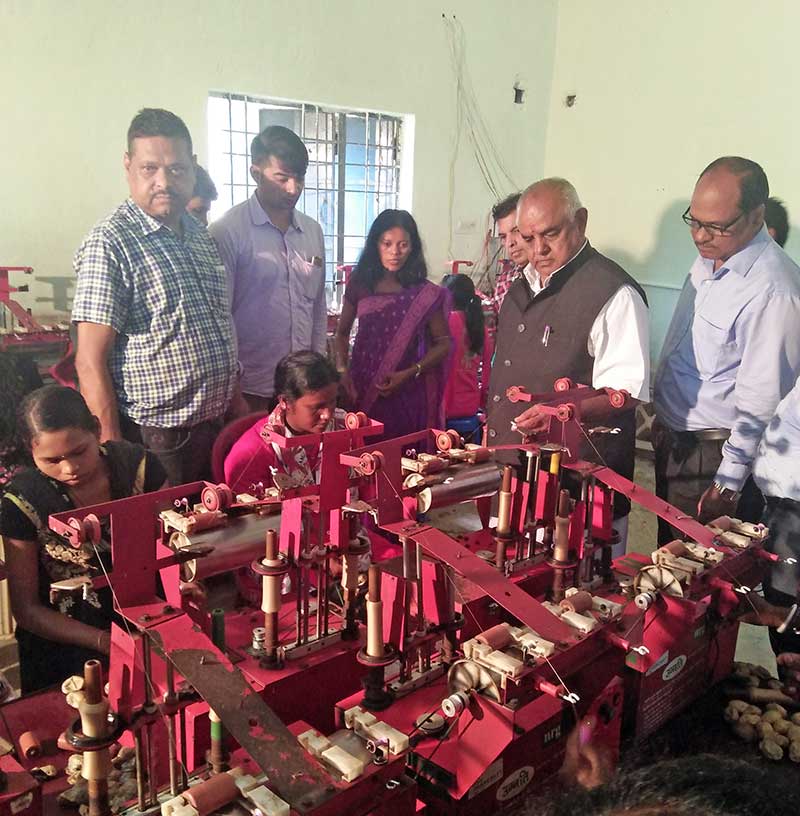 The creativity of Kuni can be witnessed in a good range of products manufactured in Bhagamunda Silk Park. Her embroidery designs and colour combinations in various sarees, Dhoti, scarves, matha, jackets, and blazers attracted immense popularity amidst the masses. These products are showcased in numerable online platforms like Flipkart and various state-level fairs.
Kuni has been awarded with the Best Reeler Award 2014-15 by the Ministry of Textiles for her undaunted role in Tussar sector. She has received much recognition in state and national level for her continuous efforts. As a stakeholder (Representative of reeler from ODISHA), she attended the stakeholder's conference at Bigyan Bhawan, New Delhi in 2017. She made numerous suggestions to bolster this sector such as replacing the thigh reeling process with a modern Reeling Machine, implementing advanced technologies for boiling Tussar cocoons etc. Her notes received the official nod on International Women's Day the same year.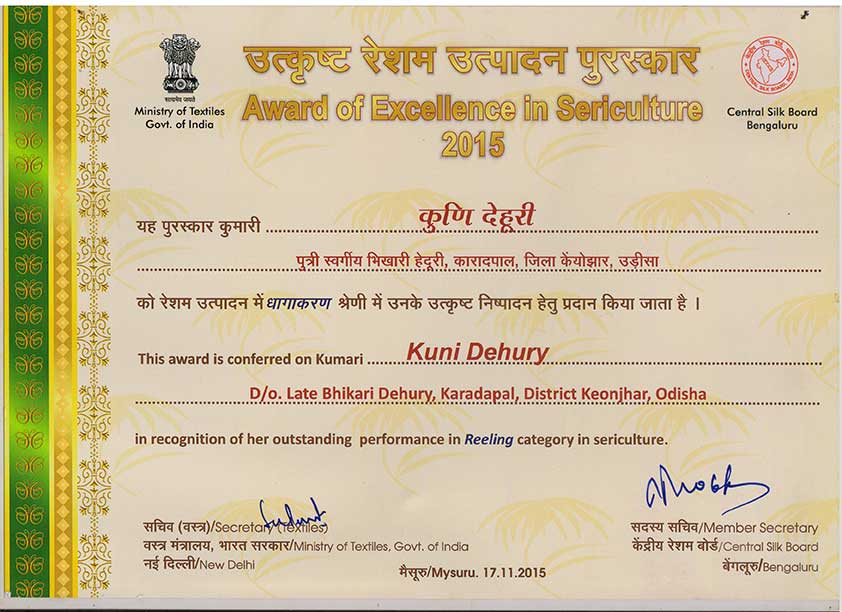 I never thought that I could tread over such a long distance.  It has changed my entire life. Today I feel happy for being an inspiration for others who joined this sector to become self-reliant. I hope one day with the government's aid, I could avail world-class facilities here at Silk Park to empower everyone and redirect those who leave home for job hunt. We can collectively foster the Made in India initiative in the textile sectors.