Naraj Peacock Valley- as the name denotes is the abode of more than a hundred peacocks in the outskirts of Cuttack on the banks of Mahanadi in Odisha. But all credit goes directly to the efforts of Pannu Behera. A home guard by profession he served the Odisha police for 32 years at the Sidheswar Police Firing Range in Cuttack district. He has famously called Odisha's 'Peacock Man' until he died in 2017. Presently, Kanhu Charan Behera is perpetuating the legacy set by his grandfather. He serves food and takes care of the peacocks religiously. Moreover, he also works to enable all the necessary resources to proliferate their population.
Kanhu's morning starts with a visit to the valley. Every morning at 4:30, he goes to feed peacocks and remains there unless the last one is fed. As a commerce graduate, opting for a different field requires a great spirit. Since childhood, he had been visiting the place with his grandfather. When Kanhu was in class 12th, his grandfather asked Kanhu to take over his most prized possession for the first time. Initially, reluctant Kanhu has followed the ways of his grandpa only to pay respect to his last wishes. But he never imagined when and how he got connected with peacocks like his grandfather. After grandpa's death, he readily accepted to 'own' his prized possession.
"My grandfather was so dedicated that he would spend the night in the guard room. His life lived in peacock. Under his obsession, he had already told his family members that after his death, his mortal remains should be taken to his two houses – his village and the peacock valley."
The journey of Peacock Man started just after the 1999 super-cyclone that devastated the Odisha coast. During his morning duty at the Firing range, Pannu discovered an injured peacock and two peahens nearby, who had come over from the neighbouring Chandaka wildlife division. The compassionate Pannu fed a portion of rice that he had brought for his lunch to the peafowls. He nursed the injured peacock and named it 'Raja'.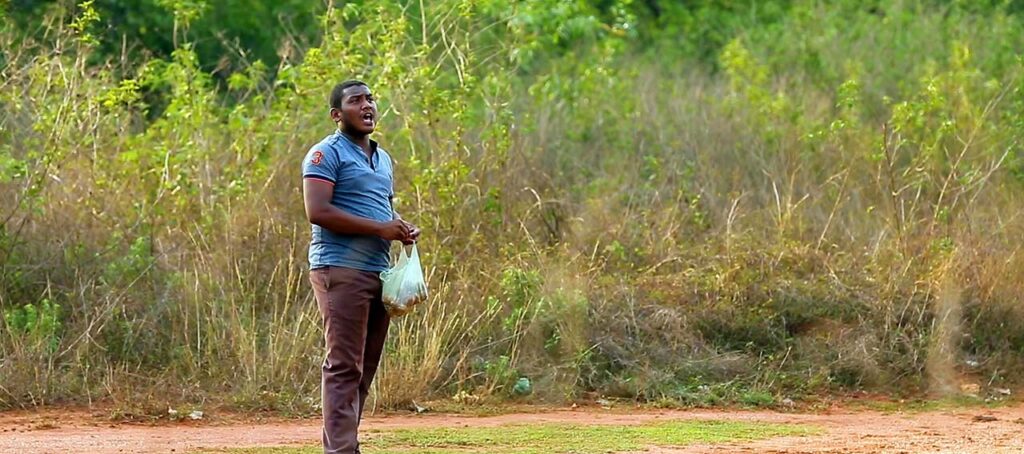 The next morning, he saw they were back again. Since then, an amicable relationship has started to bloom within them. Every morning, Pannu came to the firing range and called out 'Raja Aaa'. Strangely the three peacocks would respond to the call and come for food. Pannu would feed them with rice, wheat and occasionally 'Gulgula' (an Odia sweet dumpling made from wheat). He also fed mongooses, monkeys and other birds that came to the valley. In the next two years, the peacock surged three to five. As the number gradually elevated, he decided to use his salary to feed his peacock family. After retirement, the Police Welfare Fund would pay him some funds to continue feeding the peacocks. His work earned several awards and rewards, including a President's medal from APJ Abdul Kalam in 2007.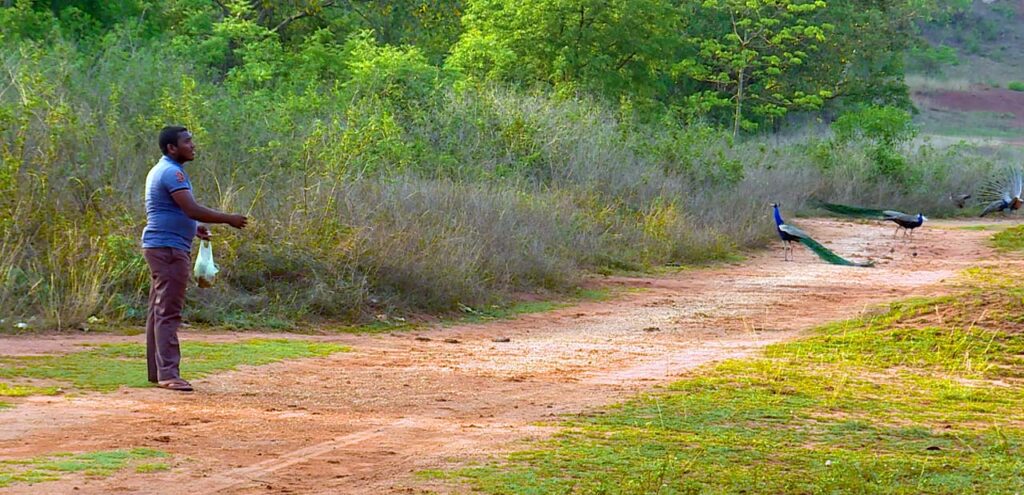 "The daily expense is around Rs 500. The tourist who comes here also donates some money out of joy. In addition to this, I use my pocket money to buy food for peafowls. I think even if people who come to see these peacocks donate Rs 1, the expenses for the day can be taken care of."
Today, around 150 peacocks turned the training field into an outlandish tourist destination named "Peacock Valley". It has become so popular today that as many as 200-500 people visit regularly to have a glimpse of peacocks in their natural surroundings. Even though the area is a dedicated firing range, the peacocks are not scared. Over the years, they have gotten acquainted with the gunshots. Thus, they come for food no matter what. The training officers also get happy to see peacocks and also donate for food.
"The last wish of my grandpa is the aim of my life. In the last three years, I have developed a bonding with these peacocks. If they don't eat, I can't eat either. They are an integral part of my life and as important as my family members."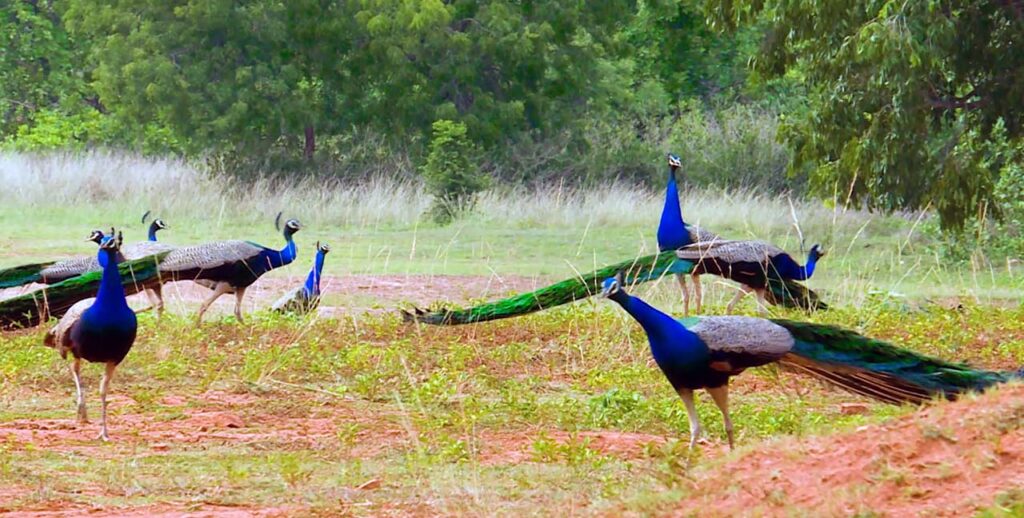 Peacock Valley is the legacy of Pannu Behera and evolving under the love of Kanhu. Recently, Kanhu planted 25 trees. In his opinion, a suitable environment can only facilitate the population of peacocks and other species. He also arranged water supply from the nearby River Mahanadi and dug holes in many spots to avail drinking water. Undoubtedly, the constant effort and love of such people has earned the fame of this valley. But it's the collective duty of government and citizens to extend their supportive hands to boost such initiatives.